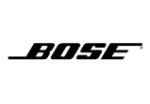 Bose: Better Products Through Research®

Since Bose Corporation was founded in 1964 by then Massachusetts Institute of Technology Professor Dr. Amar G. Bose, the original philosophies and founding principles have not changed.

Bose maintains an exceptionally strong commitment to research, for it is within the discipline of research that yesterday's fiction becomes tomorrow's reality.Bose strives to identify things which, when made better, improve people's lives.

But it's more than just research.Bose aims for excellence in everythingthey do. From the waybusiness is run tocustomer service. From the products to the owner's manuals you'll use to set them up. In everythingBose does,"good enough" is merely a starting point.

Bose hastakentheir commitment andtheir passion for innovation and applied them to developing unique sound solutions to meet virtually any audio challenge in any application, even the space program. While many ofthe products are designed for entertainment and home audio solutions, you'll find Bose sound is prevalent in both the aviation and automotive industries, too.

Bose hasalso designed professional sound systems for many applications, including stadiums and auditoriums, houses of worship, retail businesses, department stores and restaurants.

Today, Bose has operations in the United States, Europe, Canada, Australia, Asia and South America.
Phone
Customer Service Hours
Mon-Fri: 8am-7pm CST
Saturday: 9am-5pm CST
Address
Discount Golf World
2828 Broadway St
Quincy, IL 62301
Email Sign Up!
Sign up for news and sale notices. Be the first to know!