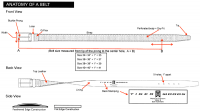 Strap Characteristics
Leather

: term used for all kinds of tanned animal hides or skins

Glove Leather

: soft and supple leather type, same as nappa leather

Distressed

: buffing surface to create uneven coloration and markings for a weathered look

Embossed

: hides or skins finished with designs stamped on by etched, engraved, or electrotyped plates or rollers. A mechanical process of permanently imprinting a great variety of unique effects to the leather's surface. Done under considerable heat and pressure. Embossed designs may resemble that of the natural grain or different animal skins.

Fat Wrinkles

: wrinkles in the gain of the leather caused by fat deposits in the animal

Finish

: to make leather more durable coloring substances are applied to the hide which provide abrasion and stain resistance as well as color enhancement. This process usually involves three or four coating operations.

Full Grain

: the outside original skin or hide that had the hair removed but has not been corrected or altered. It possesses the original grain of the animal.

Grain

: the outside of the hid or skin consisting of pores, wrinkles, and other characteristics that constitute the natural texture of the leather.

Glazed Finish

: surface polished to a high luster by pressurized glass or steel rollers

Matte Finish

: a flat or dull finish.

Nappa

: refers to the surface of top grain of any soft leather hide.

Natural Markings

: the subtle markings on leather are similar to finger prints. They distinguish genuine leather from man-made materials. Other marks which appear on the surface of leather are healed scratches and scars, barbed wire marks, stretch marks, vein marks, wrinkles, brands, and insect bites.

Oil Tanned

: leather tanned with fish oils to a very fine hand feel that appears smoother than suede.

Pebble Grain

: an embossed leather grain finish resembling a pebble surface, ranging from fine pebbled to heavy.

Perforated

: the process of punching, piercing, or die cutting small holes to form a pattern in the leather.

Split

: when a thick hide is split, this term refers to the top surface which looks like suede but is not as soft.

Vegetable Tanned Leather

: tanned using ingredients found in vegetable matter, tree bark, etc.
Buckle Characteristics
Brushed Finish

:

Gunmetal Finish:

Two-Tone Finish:

Polished:

Carbon Fiber Inspired:

a design pattern inspired by and made to resemble the look of carbon fiber, the same strong, light, and expensive composite material used in the shaft of many golf clubs.

Laser Etched:

Laser Embossed:

Buckle Set:

three pieces of matching hardware – buckle, loop, and Swoosh ornament.

Plaque Buckle:

a flat-surface trophy buckle.

Reversible Buckle

: allows the wearer to select either side of the belt strap to face outward.
Nike Belt Technology
Shoe Matcher

: belt design echoes the leather details of Nike Golf Sport Performance footer. Imitating traditional Nike Golf saddle aesthetics with innovative TW fashion and technology. The Shoe Matcher completes the winning attire on and off the course.

Nike G-FLEX®:

the state-of-the-art fibers twist and turn with every stance for increased range of motion. With Nike G-FLEX technology, there is no holding back, just as a full swing ahead.

Dri-FIT

: perforated leather strap allows air to move through the belt. Whether it's high noon in mid-August or just a warm day in September, Nike Golf's breathable belts are designed to keep you comfortable through the 18th hole.

Nike Ultralight

: Nike Ultralight technology uses sculpted cut-out buckles for a lightweight feel.

Reversible

: buckle rotates at the base to provide two unique belts for the fashionable golfer. Great for travel.

Interchangeable

: snap-on feature provides for buckle and strap versatility for the fashionable golfer.

Nike Body Mapping

: a technology that uses strategically placed ventilation zones to increase breathability and improve airflow across the body.

Adjustable

: belt webbing may be cut to size for a custom fit.